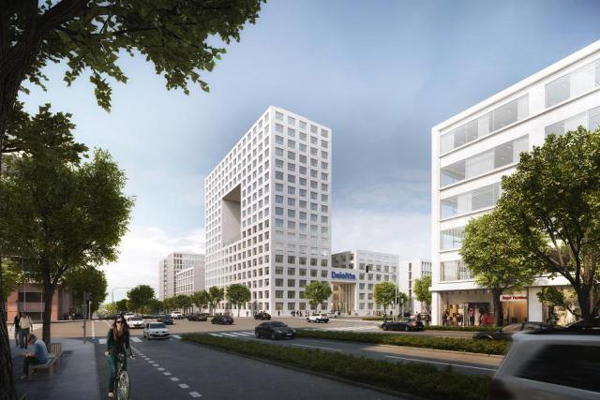 The project, which took over twelve hours to complete, saw SOLUDEC install a key part of the future home of consulting firm Deloitte, which has been designed by Paul Bretz Architects: the supporting structure for a 400m2 terrace known as an "urban window".
The 20mx20mx20m terrace will be situated between the seventh and thirteenth floors of the new building on the new Cloche d'Or development.  To form the structure, two 48-ton prefabricated concrete sails had to be installed, as well as a 50m high 46-ton metal structure which will enclose the window.  These elements were hoisted into position by a giant mobile crane capable of carrying 700 tons."We used this particular technique in order to limit the shoring which would otherwise be needed for the construction," says Lionel François, Project Manager for SOLUDEC.
The three key elements had been previously manufactured and assembled on site at the foot of the building because they were too bulky and heavy to be easily transported.  The lifting of the first of the concrete sails started at 07:00 on Saturday, the metal framework went up next and the second sail was in place at 18:00.
"The proje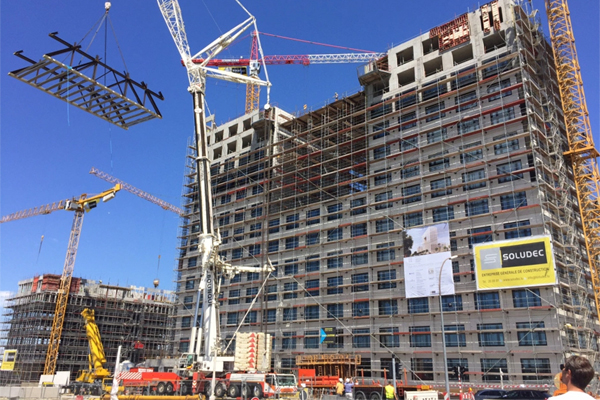 ct went well," confirms architect Paul Bretz.  "It will now be possible to see the shape and proportions of this characteristic part of the building, which actually represents a third of the overall construction."
The terrace will offer a view of the old town on one side and the PwC building on the other, and will be used for receptions, gatherings and staff breaks.
The site is currently on schedule and handover of the building is still expected by October 2018.